MASSIMO X9 125 DIRT BIKE
When you're investing in motorsports, make sure you get your money's worth by working with the best in the business. Arlington powersports offers unbeatable prices on the MASSIMO X9 125 DIRT BIKE, and it's backed by a 1-year warranty. We'll even ship your order right to your door FREE of charge.
At arlington powersports, we specialize in everything motorized that goes off-road. We're a licensed dealer with years of experience and thousands of sales under our belts. If you have questions or would like to know more about the MASSIMO X9 125 DIRT BIKE, give us a call at 1-817-649-7823 and we will be happy to help.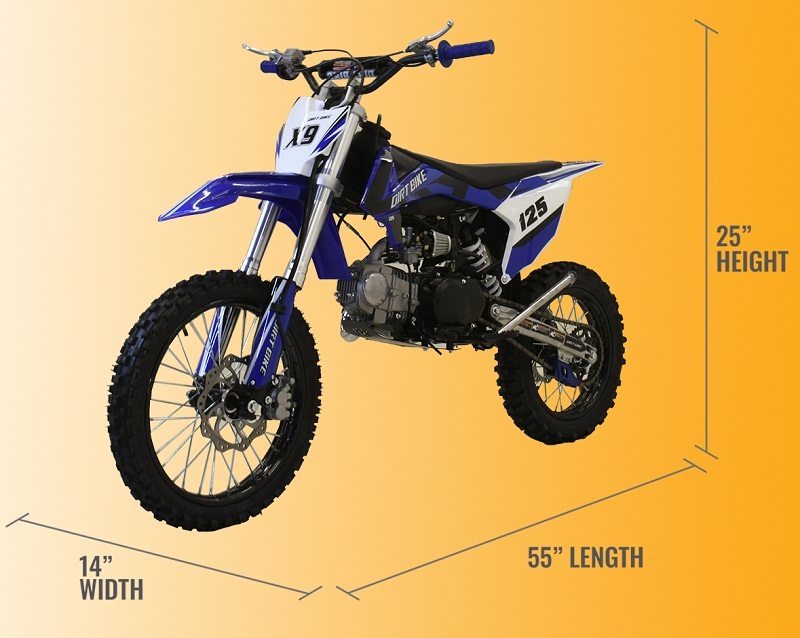 DIMENSIONS
VEHICLE SIZE (L X W X H): 99 IN X 49 IN X 85 IN
WHEELBASE: 42 IN
GROUND CLEARANCE: 7.5 IN
SEAT HEIGHT: 28 IN
DRY WEIGHT: 120 LBS
CHASSIS
FRONT SUSPENSION: TELESCOPIC UPSIDE-DOWN FORKS
FRONT SUSPENSION: SINGLE SHOCK ABSORBER
FRONT TIRES: 14 X 60/100 - 14
REAR TIRES: 12 X 80/100 - 12
BRAKES: HYDRAULIC DISC BRAKES