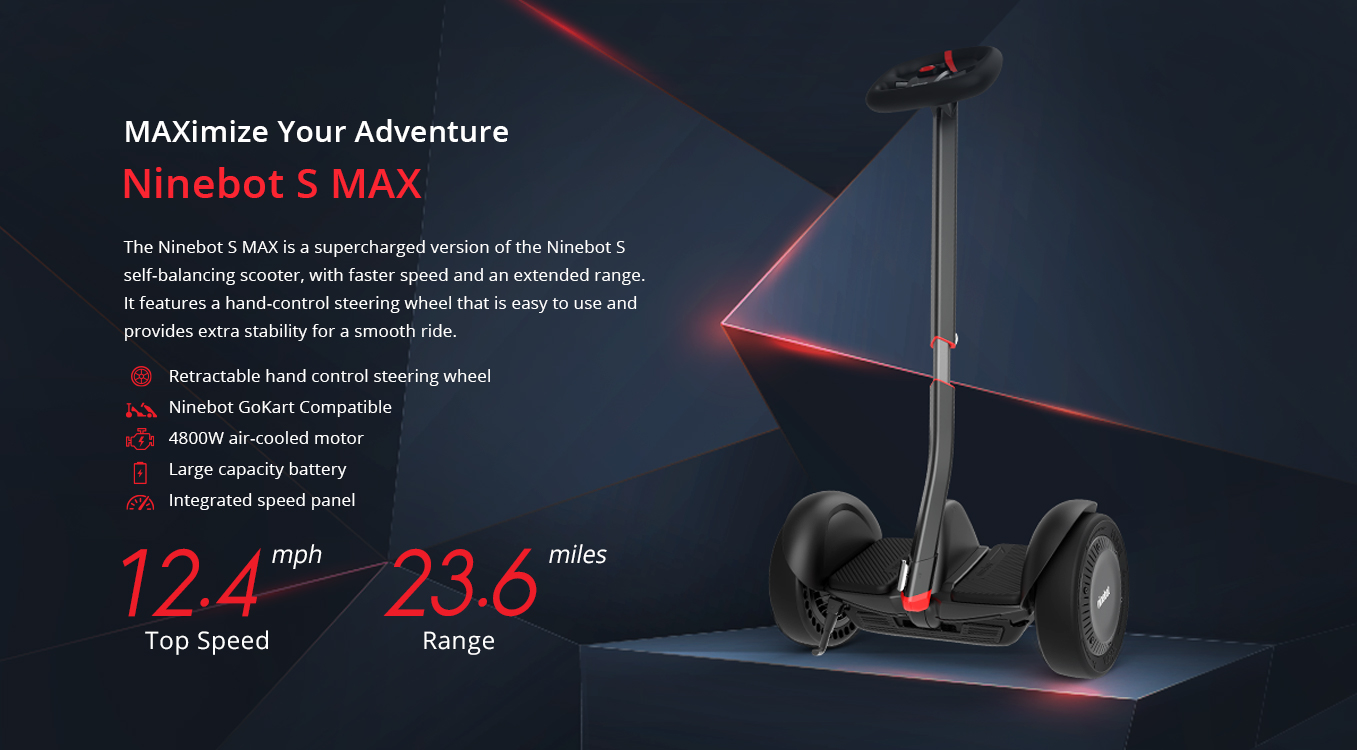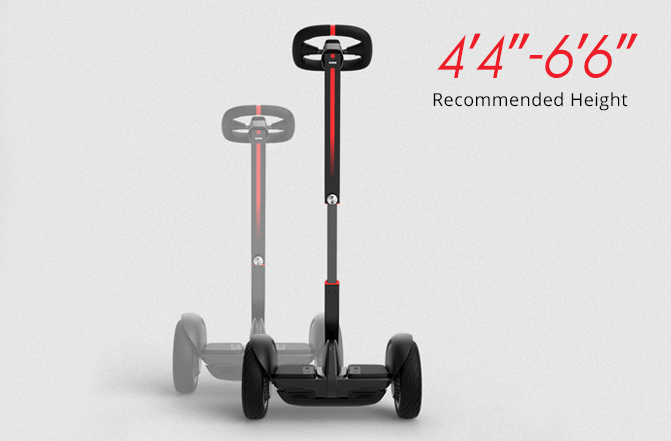 Adjustable Control Bar
With the adjustable design, you can easily customize the steering wheel to your desired height. Simply loosen the knob to lengthen or shorten the steering column.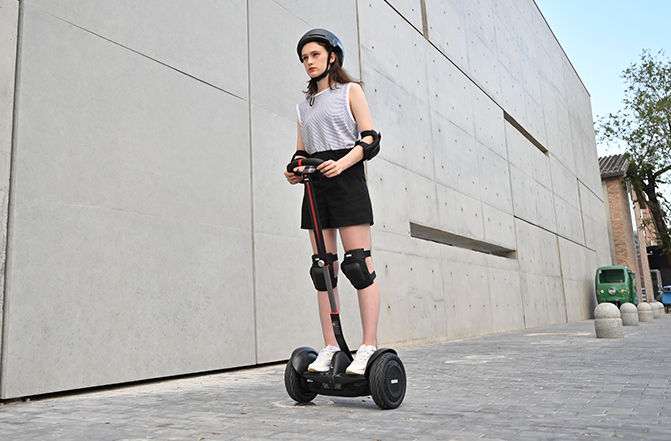 Hand-Control Steering Wheel
The hand-control steering wheel of the Ninebot S MAX delivers added control and extra stability. Experience the power of full control with a slight move of the steering wheel to the left or right.
Mobile App Integration
With the Segway-Ninebot App, you can learn how to safely ride the Ninebot S MAX, customize the rear LED lights, adjust speed controls, lock the S MAX, monitor battery and mileage, access firmware updates, and more!
MAX Power
The Ninebot S MAX is equipped with two hub motors and an air-cooled battery pack of 432Wh. With a maximum engine power output of 4,800W and 96Nm maximum torque, the smart Ninebot S MAX makes riding more exciting than ever before. It delivers a 12.4mph top speed and a sleek design. Built for practical last-mile transportation and entertainment mobility, the Ninebot S MAX gets you to your destination while you enjoy the moment.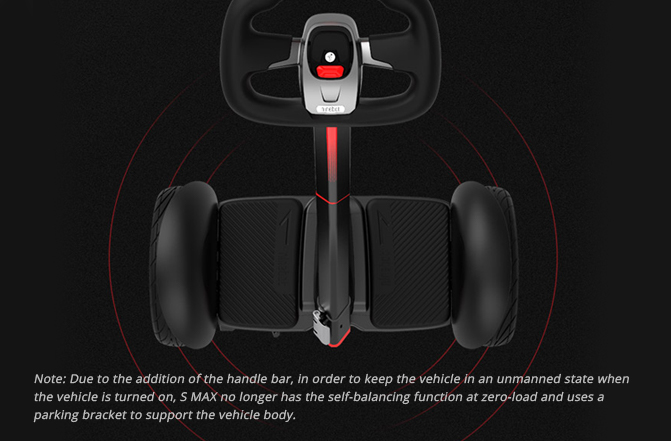 Easy to Learn and Self-balancing
It's never been faster and easier to learn a new skill than with the Ninebot S MAX. The rider tutorial on the Segway-Ninebot App delivers step-by-step instructions to guide you, so you'll be riding in no time.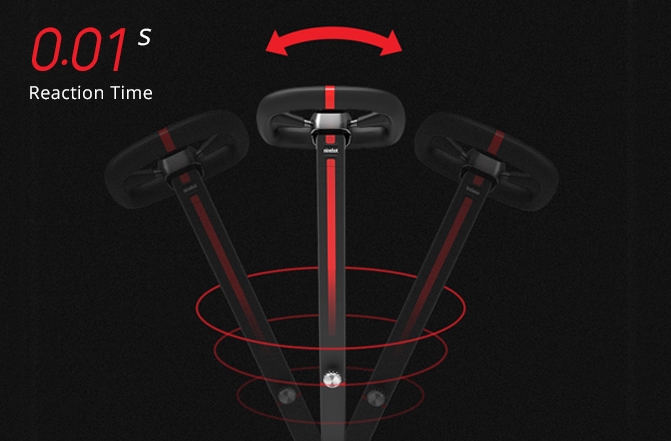 Exclusive Leansteer Technology
With our innovative Leansteer technology, the Ninebot S MAX responds to operation within 0.01 second sensitivity, detecting every single movement ensuring a smoother ride, getting you where you want to be in no time.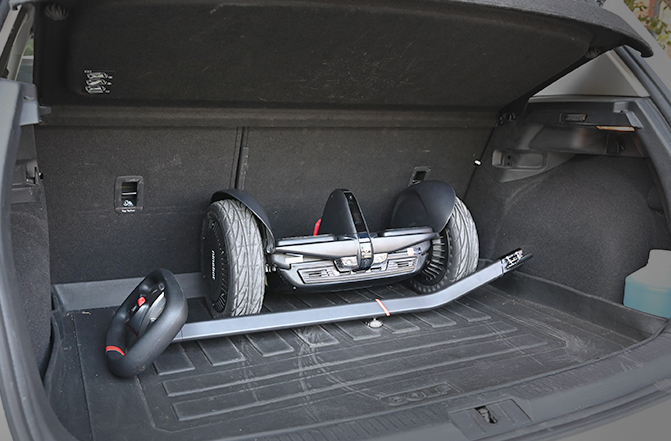 Take It Anywhere You Go
With it's compact size, it can easily fit in the trunk of a car, so you can enjoy the Ninebot S MAX anywhere you go.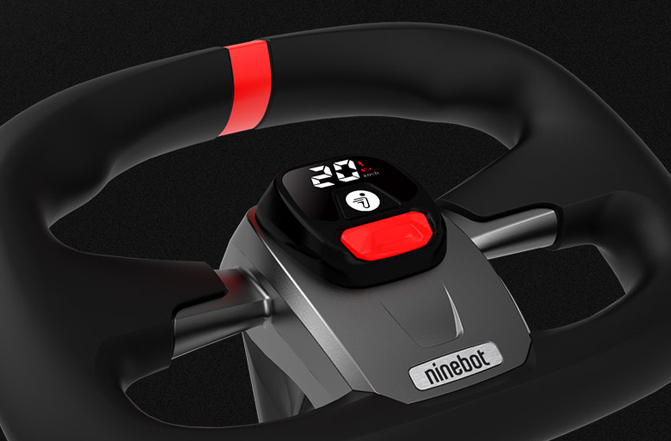 Integrated Dashboard
Easily check your speed. The speed panel is integrated into the steering wheel for quick access to your speed at any time.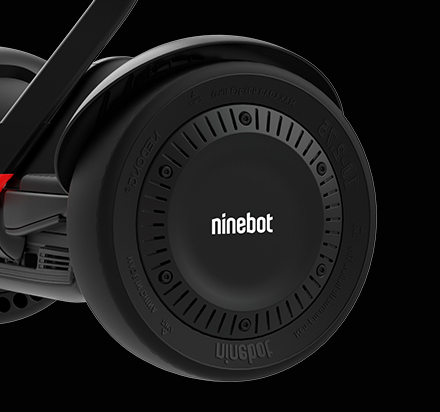 Removable Tires
Easy to assemble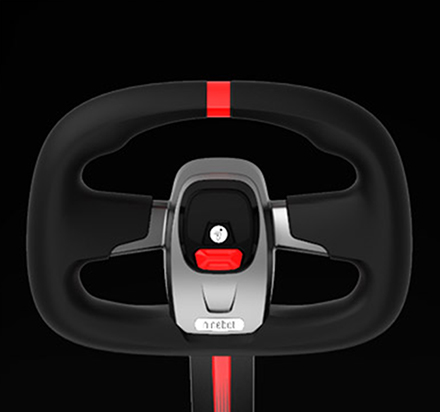 PU steering Wheel
Soft to the touch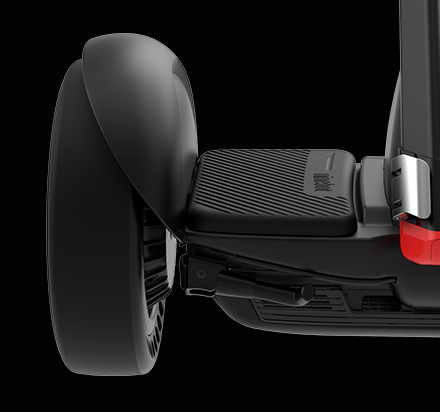 Steady Support
Standard metal feet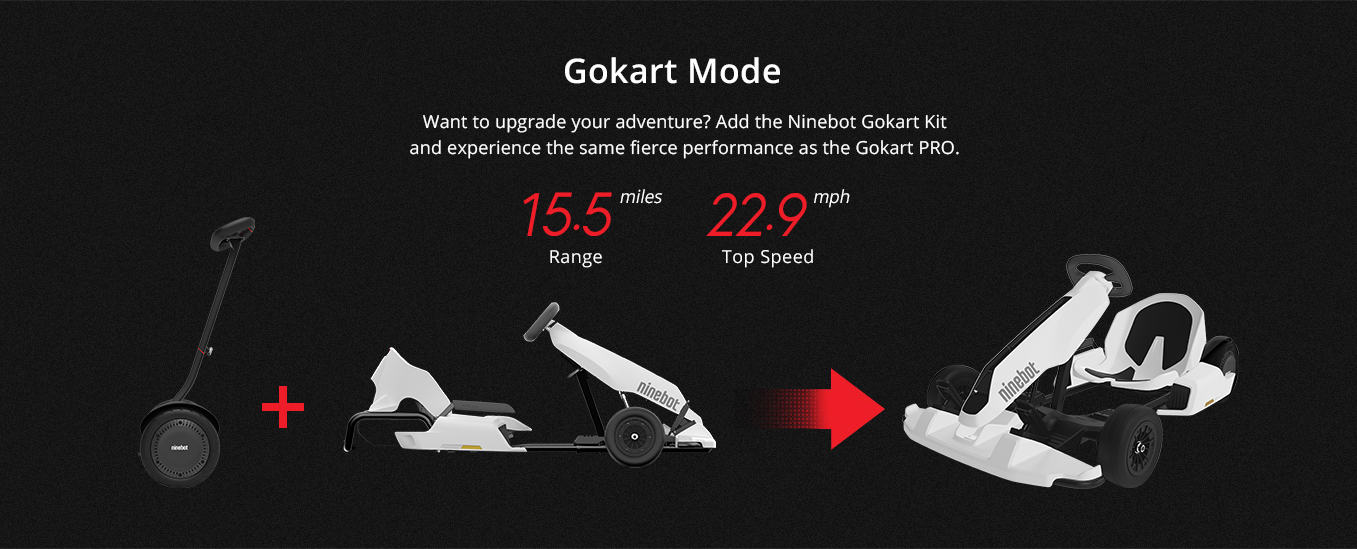 DOWNLOAD
Ninebot S Max Warranty Information
Technical Specs
Ninebot S Max
Dimensions
Length x width
(421—521)x578(mm)
Height[1]
952—1242(mm)
Weight
Net weight
Approx. 50.3 lbs (22.8 kg)
Rider
Payload
88-187 lbs(40-85 kg )
Ages
16 - 60 years
Requirements
Height
51.2–78.7 in / 130–200 cm
Maximum speed
Approx. 12.4 mph (20 km/h)
Typical range[2]
Approx. 23.6 miles (38 km)
Maximum slope
Approx. 15°
Traversable terrain
Pavement, packed dirt, slopes < 15 °, obstacles < 0.4 in (1 cm), gaps < 1.2 in (3 cm)
Vehicle
Operating temperature
14-104°F(-10-40°C)
Storage temperature
-4-122° F(-20-50°C)
IP rating
IP54
Charge Time
Approx. 4 hours
Battery Pack
Nominal Voltage
55.5 V DC
Max.Charging Voltage
59.5 V DC
Nominal Energy
432 Wh
Charging Temperature
32-104° F(0-40°C)
Battery Management System
Over-voltage, under-voltage, short circuit, and over-heating protection. Auto-sleep and auto-wake.
Motors
Nominal Power
500 W × 2
Maximum power
2400 W × 2
Charger
Input Voltage
100–240 VAC
Output Voltage
59.5 VDC
Nominal Power
120 W
Output Current
2 A
Tire
Tire
Tire width: 2.7 in (68 mm); 10 × 2.75 in, hollow solid tire
[1] The two values in brackets are the lowest distance from the ground to the highest part of the mainframe.
[2] Typical Range: tested while riding under full power, 165 lbs (75 kg) load, 77°F (25°C), 60% of max. speed on average on pavement
* Some of the factors that affect range include: speed, number of starts and stops, ambient temperature, etc.